You know Janja Štrumbelj, THE potica lady in Slovenia behind the brand Le Potica and also our potica workshop master? Well, it's your lucky day because today she's sharing her story of this traditional Slovenian dessert AND a recipe for a tarragon Easter potica with us. Let's dive in this Easter holiday spirit! (And you can additionally do so by reading our blog on Easter traditions in Slovenia here.)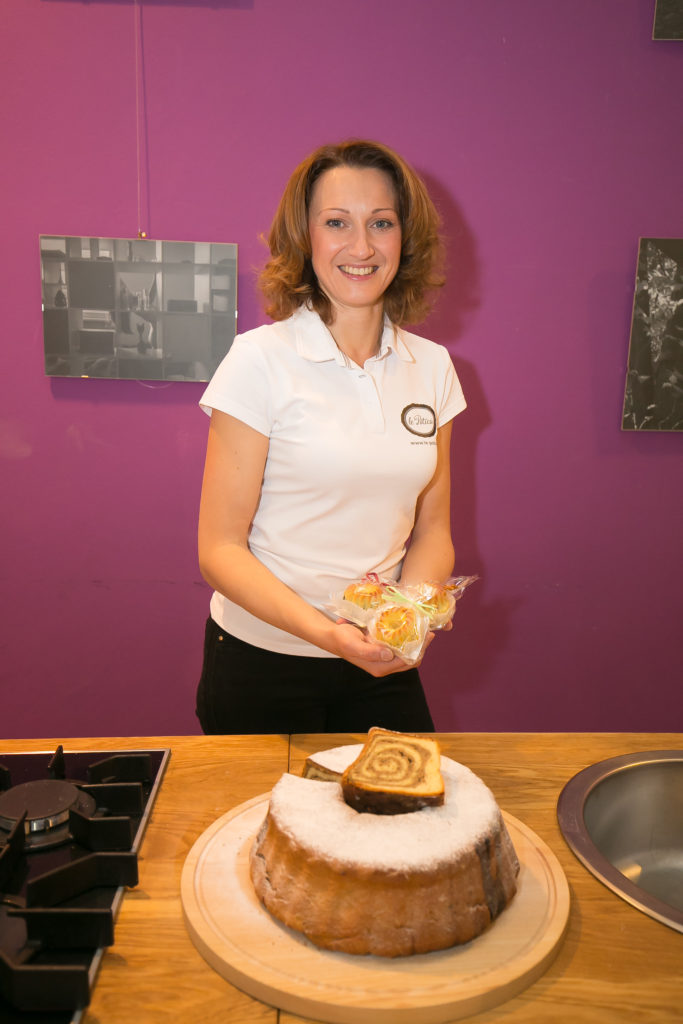 What does potica mean to you?
Potica is intertwined with memories of holidays and warm gatherings with my closest people as it is a mandatory part of all family celebrations. Therefore, potica represents my roots of upbringing and tradition into which I was raised.
What's the secret of baking a good potica?
There's as many secrets as there is housewives / bakers, and they don't like to reveal them. It is, however, good to follow the guidelines of every recipe in addition to practice as much as possible and complicate as little as possible.
How will your Easter breakfast and Easter potica look like this year?
The table will be laden with traditional treats: ham, eggs, horseradish, potica, and more important, it will be celebrated with my whole (extended) family. Good times will be had for sure. It is our tradition for quite a few years now for every housewife to bake her own potica which results in at least three or four different ones. I'm usually "responsible" for the poppy and chocolate one, but of course we never go without the walnut and tarragon one – which is the one I'm sharing the recipe with you.
Janja's tarragon Easter potica recipe
Ingredients for a approximately 30 cm diameter round pan:
For dough:
600 g white wheat flour
40 g yeast
about 2 dl milk
120 g butter
4 egg yolks
80 g sugar
5 g salt
flavourings: lemon peel, vanilla sugar, rum
For filling:
250 g unpressed cottage cheese (skuta)
300 g sour cream
3 butter biscuits
tarragon (fresh or dried)
4 egg whites
100 g sugar
1 pack vanilla sugar
2 packs raisins or dried cranberries (optionally soaked in rum)
Preparation:
In a cup, grind the yeast, mix with a bit of flour, sugar and enough warm milk to form a thick, runny texture. Leave to rise.
Sift the flour into a bowl. Heat the remaining milk and dissolve the butter in it. Whip the egg yolks and add salt, sugar and flavourings. Add warm milk with butter and mix. Knead the dough with your hands quickly into a smooth ball, separated from the bowl. Cover the bowl and allow the dough to double.
Blend cottage cheese with sour cream. Press the cookies with a rolling pin into bread crumbs. Wash the tarragon and let it try completely. Pluck the leaves and chop them. Wash the raisins in warm water and optionally soak them in rum. Whip the egg whites with a bit of sugar into foam.
Roll the dough onto a floured tablecloth and roll it into a rectangle. First, brush it with the cottage cheese and sour cream mix. Sprinkle with cookie crumbs, tarragon and raisins. Spoon the egg white foam on top and sprinkle with sugar and vanilla sugar. Twist and roll the dough tightly and place it in a well-greased round pan. Pierce potica a few times, cover with a napkin and allow to rise again for 100%. Bake for about 50 minutes at 180-190 °C. Cool slightly before cutting. Enjoy your Easter potica!
Thanks for reading!
If you crave some more delicious experiences, come join our food tours! Or buy our super informative, mobile-friendly and helpful foodie e-guide. Also, if you need help with your travel planning to Ljubljana and/or Slovenia, do not hesitate to contact us as we do also offer these services. Cheers from the yummy side of the Alps!