Easter in Slovenia is not just a Catholic holiday that follows the 40-days fasting after the Carnival (remember our post about the oh-so-delicious donuts?), but also, to our great joy, a culinary gathering of the whole family with an important symbolic background. We've researched what Easter means in our dining habits plus talked to the sourdough baker Andrej Gerželj from bakery Osem in Stari trg who's spoiling us again this year with his very own colombe.
Slovenian Easter feast
Traditional Slovenian Easter foods include eggs, ham, horseradish and potica (the one you can learn how to make also through us). It's best you get invited to a Slovenian family to savour all the following delights on an Easter breakfast.
EASTER EGGS »PIRHI«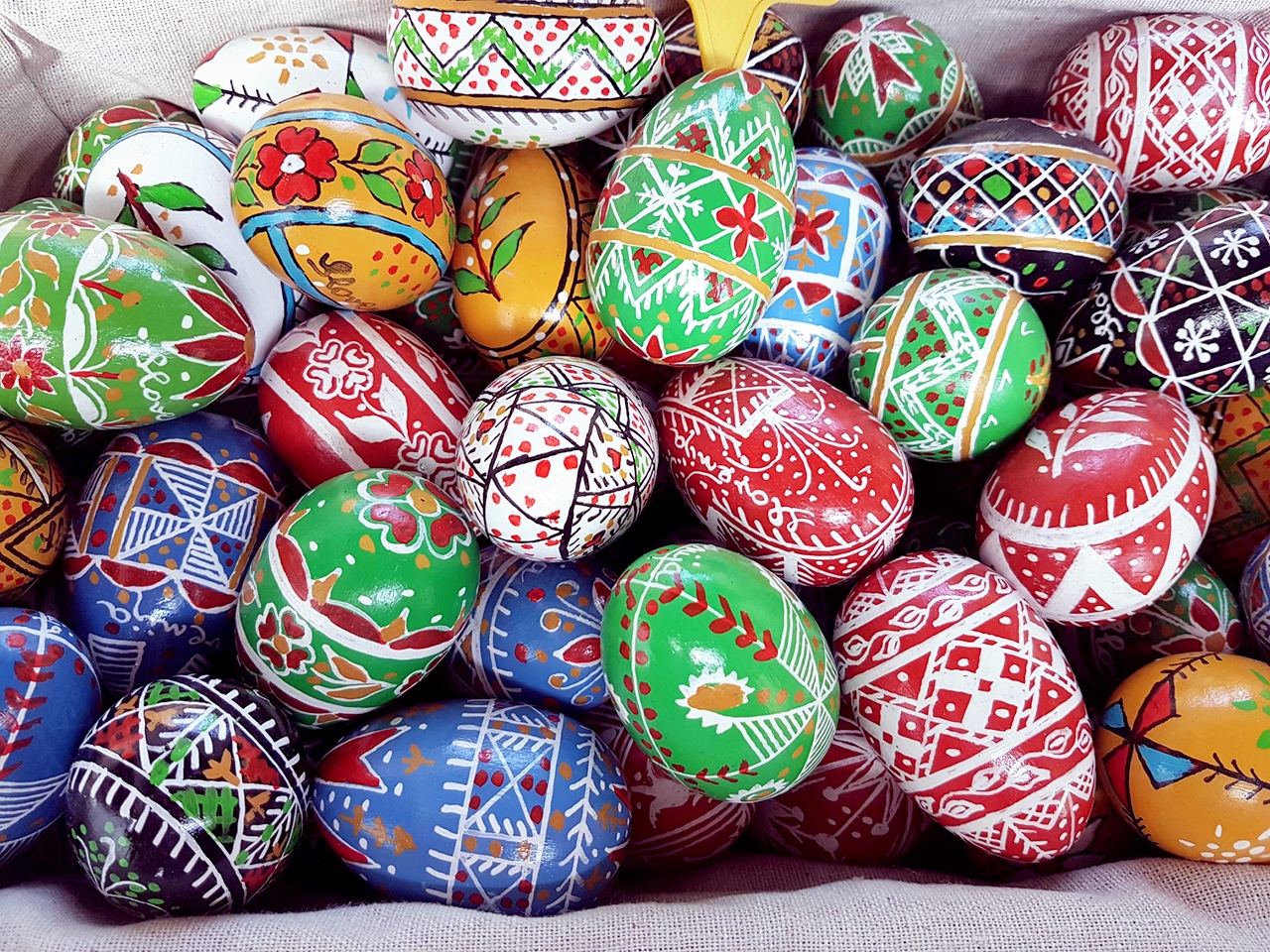 Pirhi are colorful hard-boiled eggs that symbolize drops of Jesus's blood. Some theologists state that the egg also represents Jesus's resurrection in comparison to the birth of a baby chicken which opens the eggshell with its beak. In some regions pirhi are also called »pisanice« or »ramenice«. You can find different decorating styles all over Slovenia, but the most traditional is natural dyeing with red onion skin – check out our central market as the vendors will be selling those in bags (for people who forgot to save their own peels or just need a large amount of it).
EASTER HAM
Represents Jesus's body. The smoked ham can be cooked or wrapped in a dough pastry. We have been trying it during winter at Šuklje wine bar so we're counting on them to go full blown again!
HORSERADISH
The form and the effect of the horseradish resemble the nails which were used to crucify Christ on the cross. It can be grated and served with an apple or for a milder version it can be added to the cream. In Repete, they mix it with orange juice – so much yum!
POTICA
Potica is Slovenian traditional festive sweet bread. Because of its round shape with upright ribbed outer edge, it symbolizes the crown. The protected Slovenian potica can be prepared with five different fillings: walnut, walnut with raisins, raisins, tarragon or tarragon with cottage cheese. So, suitable for vegetarians (as we have pointed out in our blog post)!
Andrej Gerželj interview
What are your memories to Easter treats when you were a child?
One thing that comes to my mind are nicely wrapped big chocolate eggs which my aunt kept bringing me from Trieste. We celebrated Easter but we didn't bake bread or potica.
We know that your bakery is known for unusual delicacies. What do you intend to bake this year during Easter time?
Colombe (traditional Italian Easter dove bread) like we did last year.
How long does it take to make colomba?
The whole process is 3 days long because the dough should rise 3 times before it goes in the oven. After each rising it needs to be kneaded. After the second rise you make a form of a dove and let it rise for the third time. Only then the colomba can go in the oven.
Would you say that Ljubljana locals are familiar with colomba?
I'd say yes. Last year we made it for the first time and we sold them all very quickly. At first we were a bit concerned as they are not so notorious as panettone (Italian Christmas sweet bread), but they were all gone fast.
Why did you decide to make colomba instead of potica?
I wanted to offer something different, and since this bakery is French – Italian inspired it seemed reasonable that colomba becomes the Easter treat and follows the panettone which I offer in Christmas time. Besides, you can get a delicious potica everywhere, not to mention brand Le Potica which is specialized in making them (and hey – we also organise potica baking classes with its maker Janja, btw!), but you cannot get colomba around the corner.
What is the main difference between potica and colomba?
There's a big difference – potica has a filling while colomba is without it. Some might add to colomba glacé fruit and coat it with almond icing, but it doesn't contain any filling. As for the dough, colomba is definitely more soffice (puffy).
When will colomba be available and how many do you plan to make this year?
The week before Easter, hence from 26th March on. We plan to bake 10 colombas each day.
Thanks for reading!
If you crave some more delicious experiences, come join our food tours! Or buy our super informative, mobile-friendly and helpful foodie e-guide. Also, if you need help with your travel planning to Ljubljana and/or Slovenia, do not hesitate to contact us as we do also offer these services. Cheers from the yummy side of the Alps!