Ljubljana donuts! Sooooo tasty and worth the wait. Although you can have this traditional Slovenian pastry all year round, traditionally these succulent, so unhealthy but so so good deep fried balls called krofi would be available only around carnival time – and we swear they still taste the best in season! And there's many more flavours and tastes now than in the past so we've scouted some local Ljubljana donut favorites to help you celebrate this Slovenian tradition (pagan) in style.
Hotel Slon
Slon's donuts are the 2nd most famous donuts in Slovenia, right after those from Trojane (if you're headed from Ljubljana towards Štajerska region, you cannot miss the sign). They have been making them for over 25 years and every year they fry a larger amount. In 2019 they intended to sell over 35.000 round indulgent pastries. Besides their secret traditional recipe they're so yummy because of their homemade apricot jam. They sell them from a stand in Čopova street – get in line fast because you might end up at the other end of the street! Each will cost you 2 eur.
Domača peka
Family owned sweet shop Domača peka (translated as homestyle baking) is frying their donuts since 1991 – our independence year. Not only do they have their own secret recipe, they even have their own size of donuts. We could refer to them as baby donuts because they are smaller than usual, but rest assured just as fulfilling as the rest. To follow the tradition, they fry them in a pot, and to make them even more special, in peanut oil. Look for this perfectly sized donuts as a quick snack when your sugar drops low on your way to work. And for the record, they are around the whole year! Price: 1,00 eur
Zrno do zrna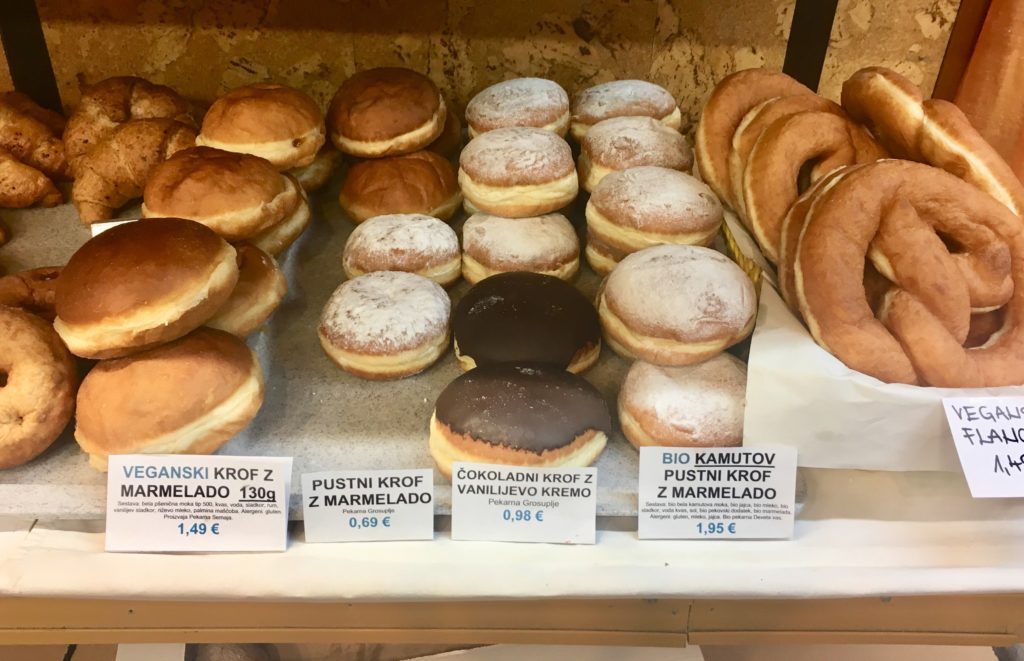 This little healthy shop in Trubarjeva street Zrno do zrna (translated as grain to grain) was one of the first in Ljubljana to start the trend of special varieties of healthy donuts. In their shop you can find all kinds of donuts, ranging from organic kamut flour, vegan with white flour, classical donut, spelt flour donuts and even gluten free and sugar free donuts (suitable for diabetics). Every year they add another type of special donut, this year it was vegan made with white flour. They say that each year demand for donuts starts sooner. They sell up to 1000 donuts per day. We tried the organic donut made from kamut flour and wen weren't disappointed. Price varies from 0,59 eur to 1,59 eur.
Rašica
Even though this family owned sweet shop Rašica (named after a nearby hill) is based outside of the city center, they are one of the biggest donut providers for Ljubljana region. Some say they have the best donuts around, and let us just tell you they do have the fluffiest stash. People go crazy for their donuts! They start selling them at the end of November until the end of February. During the carnival festival, they sell up to 5.000 per day and in the months before the festival up to 500. They say that the recipe is not that much different from others, just flour, eggs, milk, yeast and homemade jam. No artificial ingredients. Well, we believe they also have to contain heaps of love because they are just delicious! Price: from 1,50 to 1,90 euro for the chocolate ones.
Barbarella
Barbarella is another vegan restaurant and a cafe in Ljubljana, well known heaven for all vegan lovers around. Lucky for them, in 2017 Barbarella decided to start making their own vegan donuts. This healthier edition of traditional donut is made from organic spelt flour, rice milk, organic cane sugar, yeast and homemade apricot jam. They sell up to 70 donuts per day. We definitely wouldn't say no to this special treat. Price: 2,60 eur.
Hotel Union
According to their marketing manager Ms Andreja Rus, hotel Union was one of the first hotels in Ljubljana that started to fry and sell donuts during the carnival time. The recipe has been secretly kept by their own bakers who plan to fry this year over 10.000 donuts, made of 100% natural ingredients and without any preservatives. For them, it is important to start baking early in the morning (at 4am) as the procedure is totally manual from the beginning till the end. A piece of Union's fried deliciousness will cost you 1,5 eur.
Do you have any other favorite Ljubljana donut location? Tell us in the comments below and don't forget to enjoy the carnival season this year! If you want to know more about Slovenian traditions, you are very welcome to join our food tour and get to know more about Slovenian traditional food and food in Ljubljana, or get the Ljubljana foodie e-guide! Send us an inquiry here. See you soon!
Thanks for reading!
If you crave some more delicious experiences, come join our food tours! Or buy our super informative, mobile-friendly and helpful foodie e-guide. Also, if you need help with your travel planning to Ljubljana and/or Slovenia, do not hesitate to contact us as we do also offer these services. Cheers from the yummy side of the Alps!